Gone are the short days, snow and frost of winter, and here comes the blossoming season of spring. While I think of spring as the dawning of nice weather, I still have to be prepared for those dreary rainy days too. I don't let the rain get me down though. A vibrant rain slicker in a saturated color will keep you bright and sunny even on the rainiest of days.
For guys, I try something like this yellow zip top cagoule by Burberry. It will keep you looking effortless (and dry).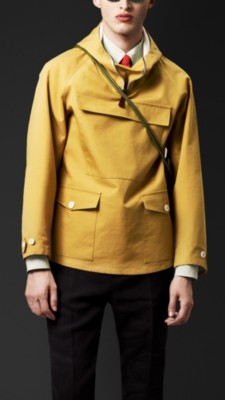 For the ladies, go with something like this coral fatigue jacket by J Crew. It's casual, well-fitted, and most importantly, functional.